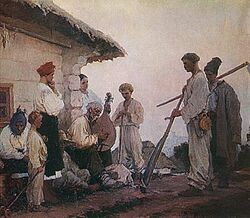 Вітаю, ви потрапили до "живої школи", навчального вікі-кола для всіх і кожного, для всіх вільних людей світу. Кожен з нас може зробити свій внесок в її розвиток.
Здравствуйте, вы находитесь в "живой школе", учебном вики-круге для всех и каждого, для всех вольных людей мира. Каждый из нас может сделать свой вклад в ее развитие.
Welcome, you are now at the "live school", learning wiki-circle for all and everybody, for all free people of the world. Everybody of us can contribute in it's development.
The internet site you are staying at is simply one of the projects for supporting education in global society.
Ad blocker interference detected!
Wikia is a free-to-use site that makes money from advertising. We have a modified experience for viewers using ad blockers

Wikia is not accessible if you've made further modifications. Remove the custom ad blocker rule(s) and the page will load as expected.